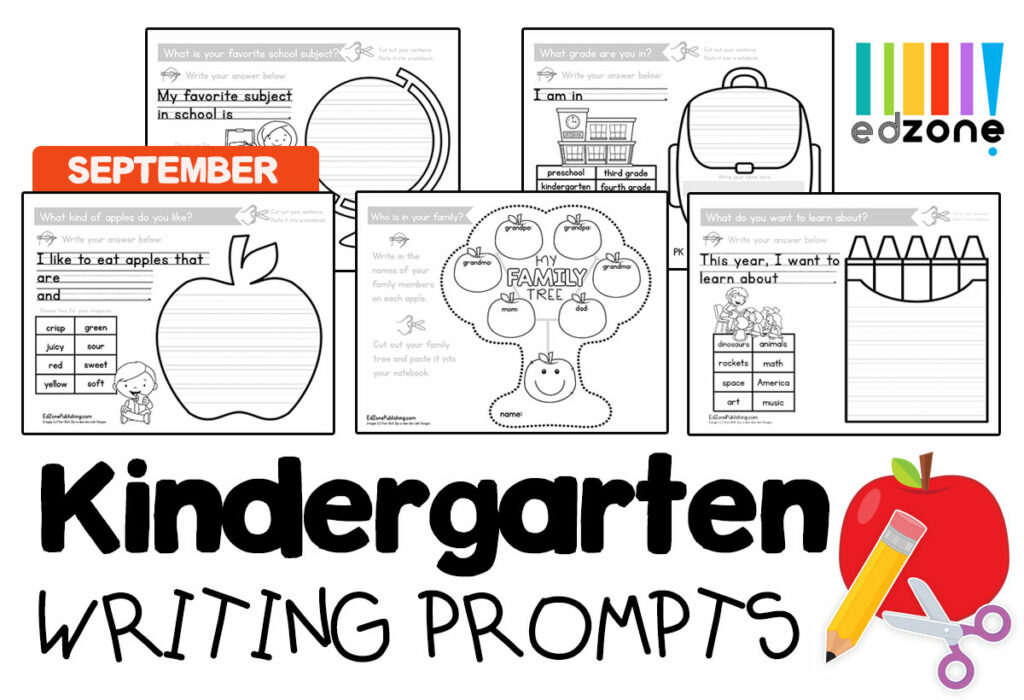 These interactive kindergarten writing prompts will make your September lessons a snap! Not only will you have engaging content to provide your students, but you'll have thematic, no-prep activities you can use for years to come!
Picture Writing Prompts
Why use Writing Prompts?
If you are unfamiliar with writing prompts, basically they are simple "starts" to help children begin writing. Often, children can become discouraged with the daunting task of coming up with ideas, or at least enough words to fill in the blank lines of their notebook paper. Providing students with simple prompts takes some of the guess work out, and helps them get started writing much quicker.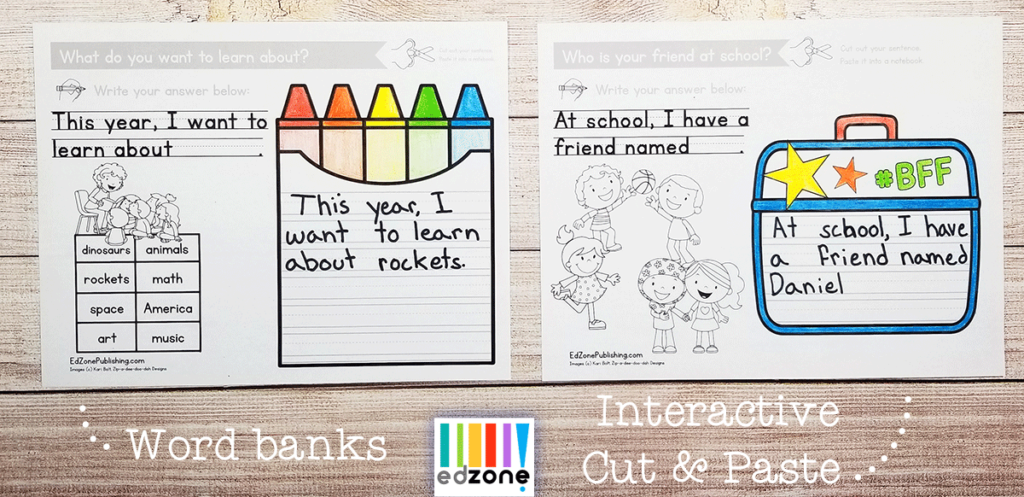 Daily Writing Prompts
Besides the obvious benefit of having a variety of no-prep writing prompts in your teaching arsenal, you'll notice a few handy features in these thematic sets. First, these pages are designed for beginning writers and busy teachers. Students copy the prompt onto the lines, then use words from the word bank to finish filling in their response. This provides a certain level of independence as students can choose and write their answers with little to no help.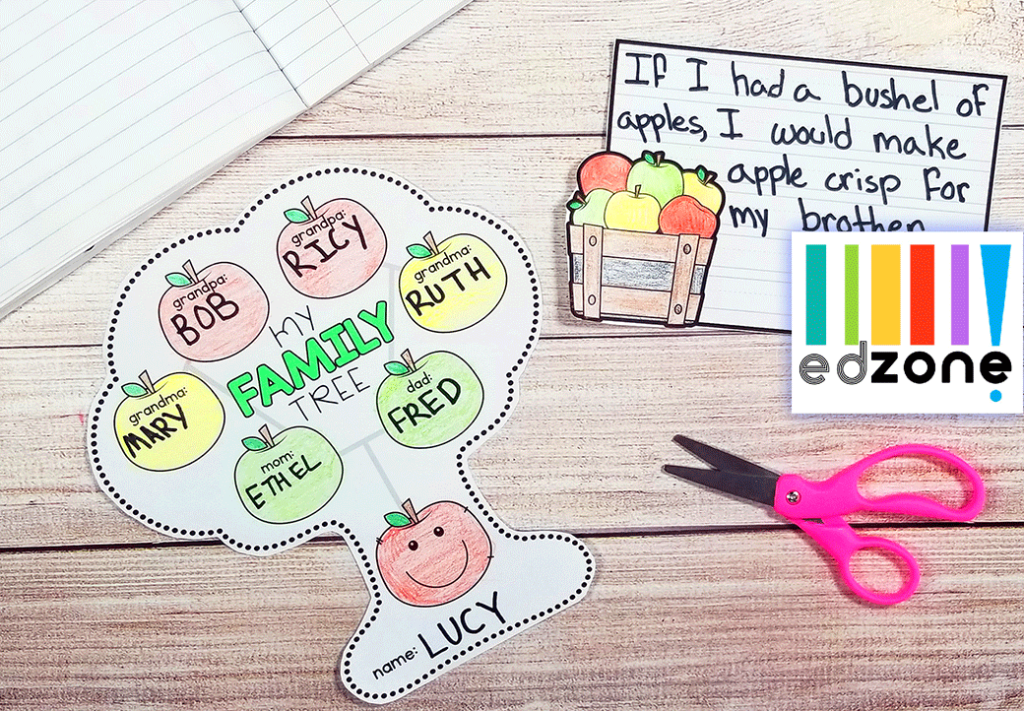 Second, you'll notice that children are writing their responses on different thematic shapes! These shapes have a thick black line for children to cut them out and place them inside a notebook. Students build a notebook filled with their own writing samples. This notebook makes a fantastic keepsake and portfolio of work.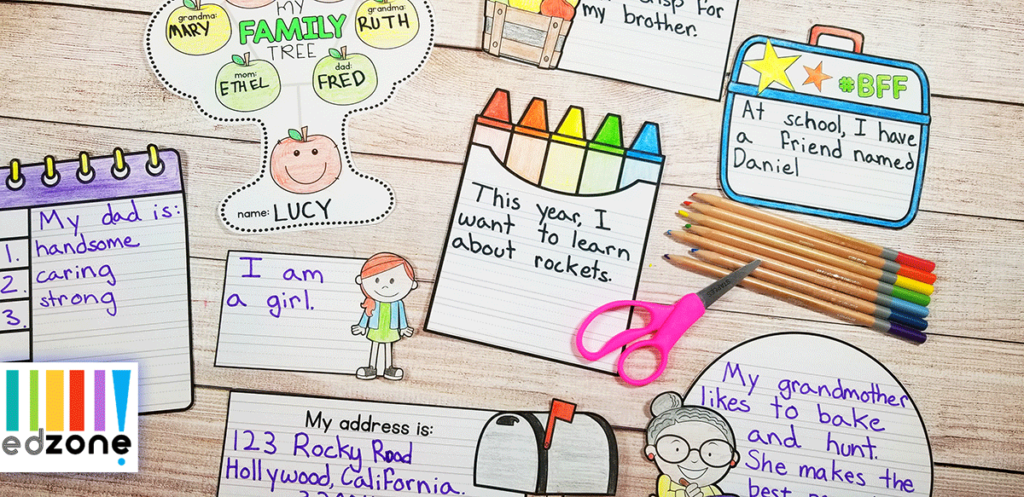 Alternatively, you can have students cut out their writing prompts and use them to decorate your classroom bulletin board. Parents love to read the variety of student responses, especially when paired next to thematic art work.
Kindergarten Writing Prompts with Pictures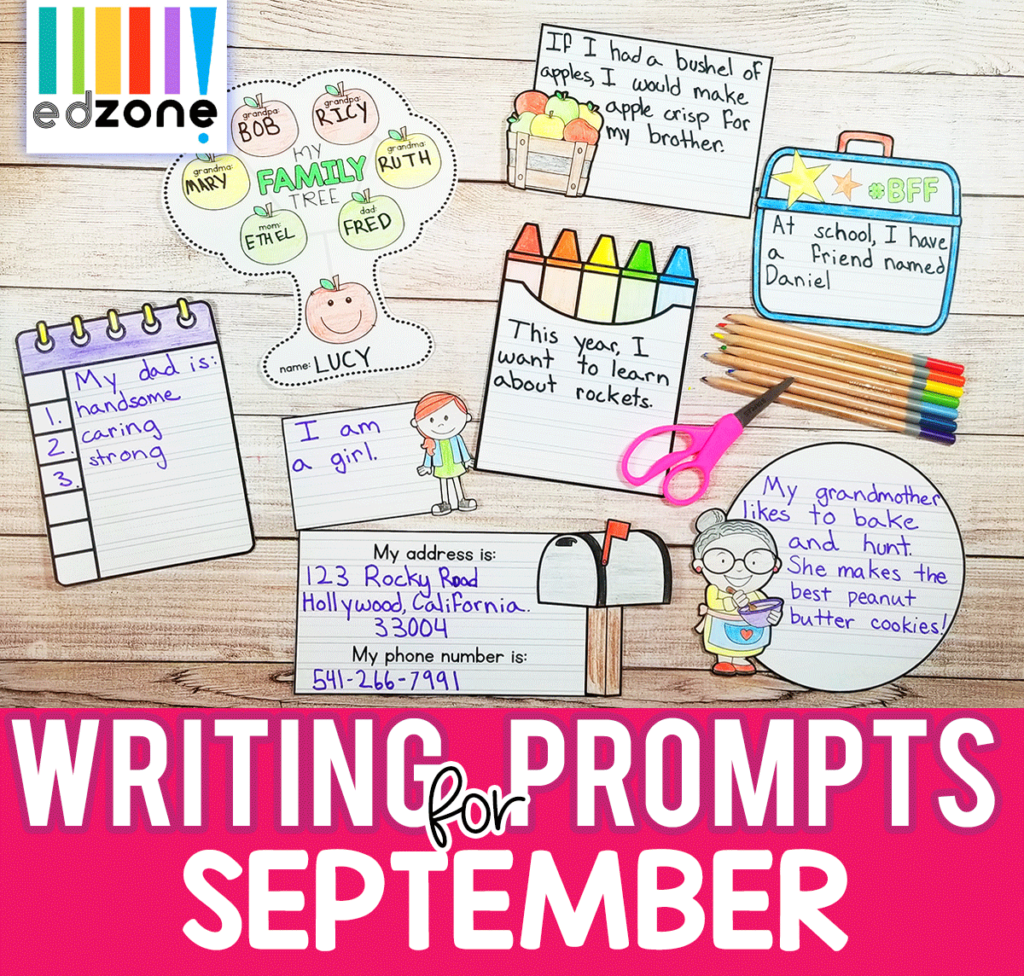 You can find all 20 interactive guided writing prompts for September in our TPT store here: September Writing Prompts. If you like this set, please leave us feedback, and stay tuned for future months!
September Kindergarten Writing Prompt Samples:
My Family Tree Writing Prompt
Students are asked to make their own family tree by filling in each of the apples with the names of their family members.
All About Me Writing Prompt
Students are asked to write a sentence about what grade they are in. A helpful word bank is provided with a variety of grade levels for students to choose from.
School Year Goals Writing Prompt
At the start of the year your students might have new goals or topics they want to learn about. This is a great ice-breaker and students can choose from a variety of different topics from the word bank to complete their response.
All these and so much more! Check out our Writing Bundle Today!