Preschoolers are primed and ready to learn anything you offer them. They demand one-on-one attention and usually grasp new concepts eagerly. The developmental needs of 3 and 4-year-olds include developing small motor control. If you have a child who is gearing up for Kindergarten curriculum in a year or two, the following 9 ideas will help you provide the opportunities they need to learn important fine motor skills.

Developing Small Motor Control Before Kindergarten
It is important to help your child develop fine motor control, which means providing them opportunities to strengthen their small muscles (think: hands and fingers, mainly). The skills they begin to develop during the preschool years will help them immensely when they begin to work on Kindergarten learning tasks later on. That's because in kindergarten, they will need to be able to draw and color, write with a pencil, color with crayons, and manage things like scissors and glue. They will be completing activities such as tracing and writing letters and numbers, manipulating paper and scissors to construct crafts, and turning pages in picture books. Having good fine motor skills helps them to succeed in all those things. Besides that, having good control with their hands will help them succeed as they're learning new everyday life skills too.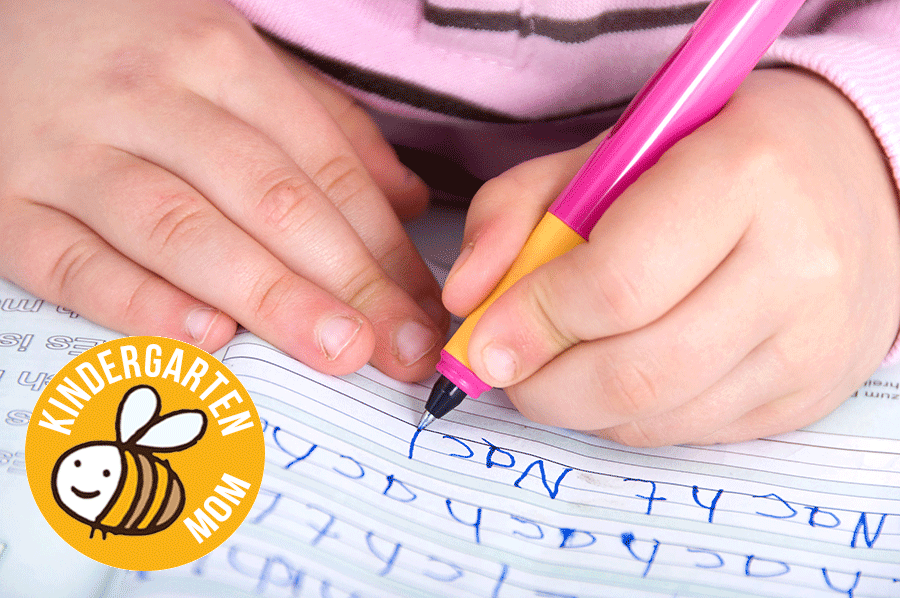 Preschool Activities that Build Small Motor Control
To develop and strengthen small muscles in your child's hands and fingers, offer them plenty of opportunities to naturally practice. The following list will give you a general idea of what to do with your child to provide them fine motor skills practice.
Tracing/Writing: At first, don't worry so much about tracing letters and numbers so much as just giving them something – anything – to trace with a crayon or marker. Any opportunities they have to pick up a writing utensil of any kind, and trace a shape or a path, let them. Sometimes the best thing you can do for them is to provide them with a wide range of writing/coloring utensils and a blank piece of paper and let them go at it. You'll see that they naturally begin to lean toward the use of one hand (right or left) and begin to gain strength and control.
Catching and Throwing: To improve hand-eye coordination, give your child a small ball and invite him/her to play toss with you. Or, play a cornhole-style game or other activity in which they are required to aim at something when tossing.
Cutting and Pasting: The ability to use scissors is a skill that must be practiced often in order to gain full control over them to create the desired outcome. Scissors can be frustrating to small hands, and it's useful to purchase a pair of ergonomic scissors made specifically for new learners (usually they contain a spring mechanism that helps provide some pressure against which the child can squeeze to work the scissors correctly). Any cut and paste activity will provide your child ample opportunity to practice skills, but look for those with large curves or wider angles, slightly curvy lines – those kinds of activities will provide just enough challenge, but not too much frustration as ones with more details or sharp curves/corners.
Small Objects: Little hands need practice picking up small objects such as beans, beads, stamps, and stickers. Any engaging art activity that involves picking up and placing small objects into a desired pattern or placement is a great idea to allow them to learn to use their fingers well. Peeling stickers and decorating a craft project is a great way to motivate them to build their small muscle control.
Playdough/Clay: Give your child a lump of playdough or modeling clay and let him poke and prod, press and mold, pinch and press items into it. These actions build strength in the hands and fingers that will transfer into other activities.
Sensory Bins: There are a multitude of commercial and DIY sensory bin ideas on the internet as well as in teacher resource books. There are so many fun themes you can do with them! They give your child hours of experiential learning during free play. A big reason that teachers and homeschool moms use them is that they help children develop skills with grasping and purposefully moving and placing small items within the bins.
Dress-Up: Playing dress up is a great way to practice fine motor skills such as opening and closing snaps and zippers, securing buttons, tying shoes, and styling the hair. All of these life skills are learned through play. Age-appropriate dress-up clothes and accessories help them develop their fine motor skills.
Lacing and Stringing: Lacing cards are popular tools to give children opportunity to manipulate string or plastic "needles" through small holes. Stringing beads or dry pasta onto craft necklaces or bracelets also helps them to practice detailed movements in their fingers.
Printable Resources: Coloring sheets, tracing pages, mazes, dot-to-dot puzzles, and cut-and-paste activities can be found online and downloaded for free or a small fee. Anything that involves the use of crayons, pencils, scissors, glue, or paint is the perfect activity to get little hands and fingers moving.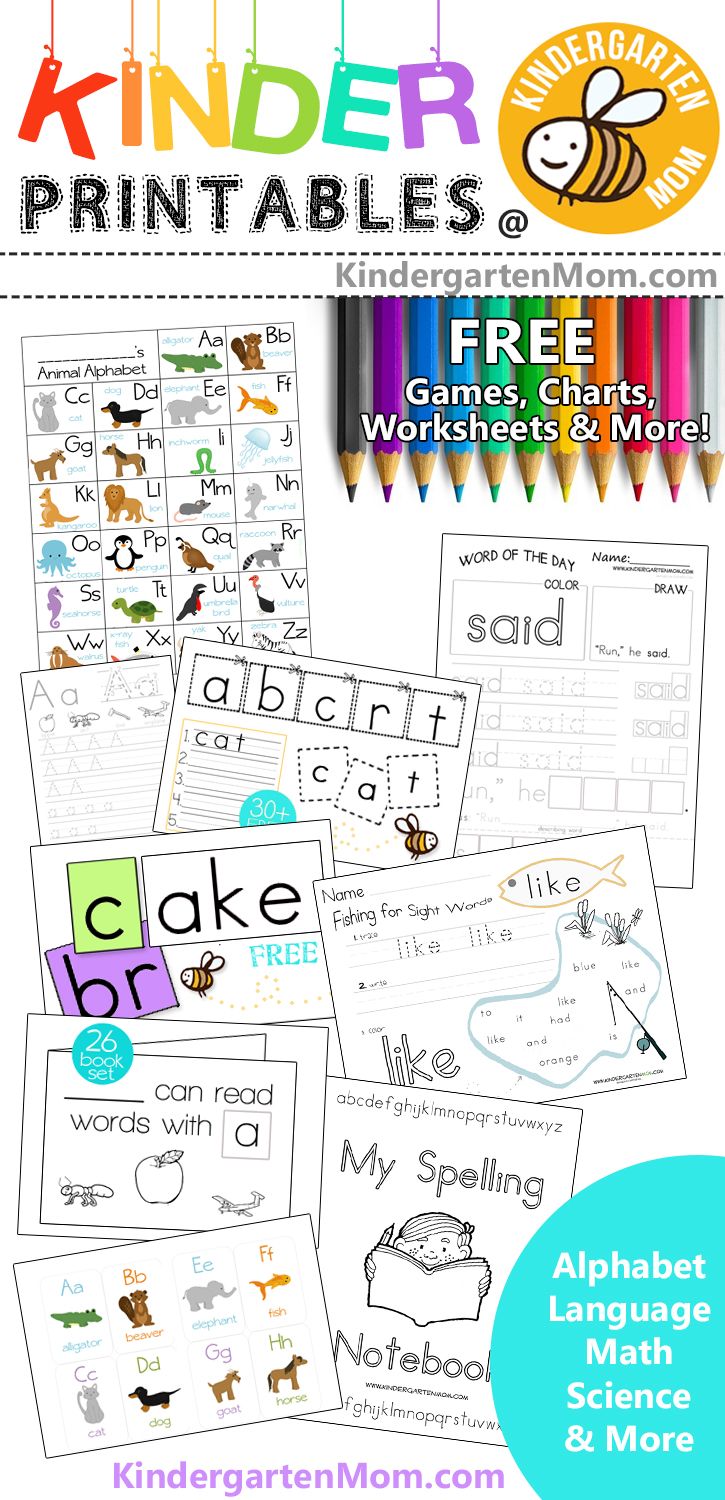 View our Collection of Free Kindergarten Printables Here
Alphabet Printables Download a complete set of Alphabet handwriting worksheets, flashcards, games, classroom charts, minibooks, early readers and more!
Phonics Printables After learning all about letters and letter sounds, phonics is the next step to beginning reading. We have some amazing word family packs to get you started.
Sight Word Printables Sight words are words that need to be memorized as they are difficult to sound out with phonics. Use these free printable resources to teach your little ones the Dolch 220.
Math Printables Kindergarten is a great time to expand on counting skills and begin to learn some early math. We have resources to help your children learn number form, tally marks, number sequence, addition and subtraction.
Science Resources Kindergartners love to explore the world around them.  Use our free Fact Pack printables to create a thematic science adventure for your children.
File Folder Games These free learning centers are based on themes you'll find throughout our website.  Simply print, glue to file folder, cut out your playing pieces and your
ready to go.
Spelling Printables Kindergarten is a great time tostart a spelling notebook! We have some wonderful printable spelling tools to help children begin the process of building and identifying words.
There you have it! 9 perfect ideas for how to help your child gain skills in small motor control before kindergarten. If these activities are provided daily or at least weekly, your child will be ready for kindergarten before you know it!