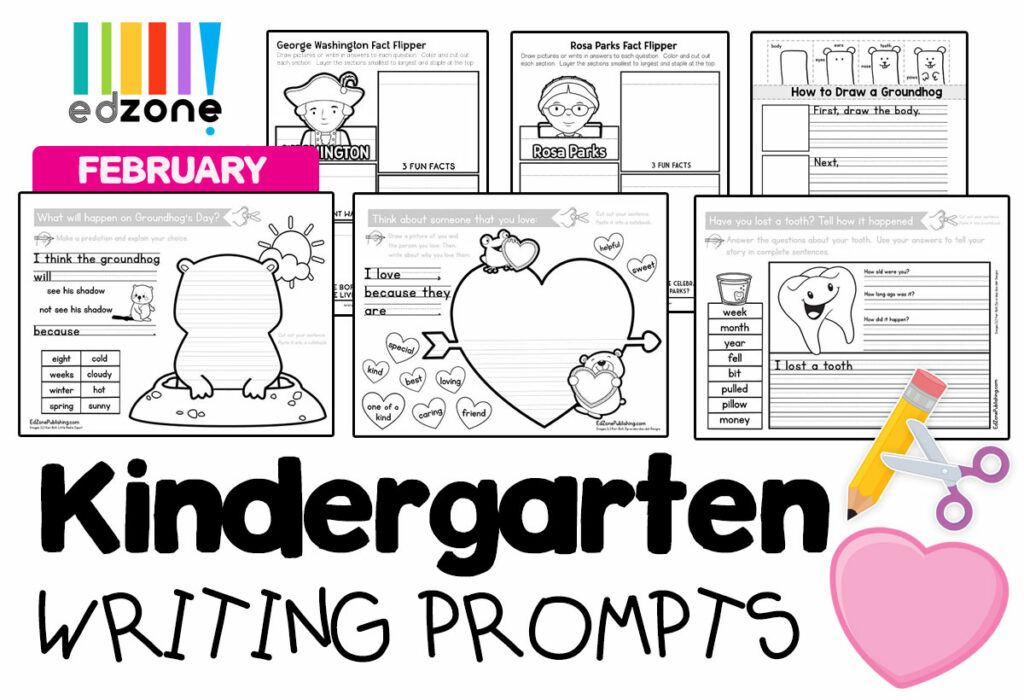 Encouraging your kindergarten students to write doesn't have to be like pulling teeth! Our interactive kindergarten writing prompts are designed to engage and encourage your students to have fun while learning key writing skills. Best of all, these guided writing prompts are no-prep, meaning you can print them out, put them in a binder and your students will be ready to write for the entire year!

This past year, we've been working on a complete, year-long writing program, and our lastest set, for the month of February, has just been released! Writing topics for February include a variety of thematic and holiday topics. You can take a sneak peek below:
Groundhog's Day Kindergarten Writing Prompts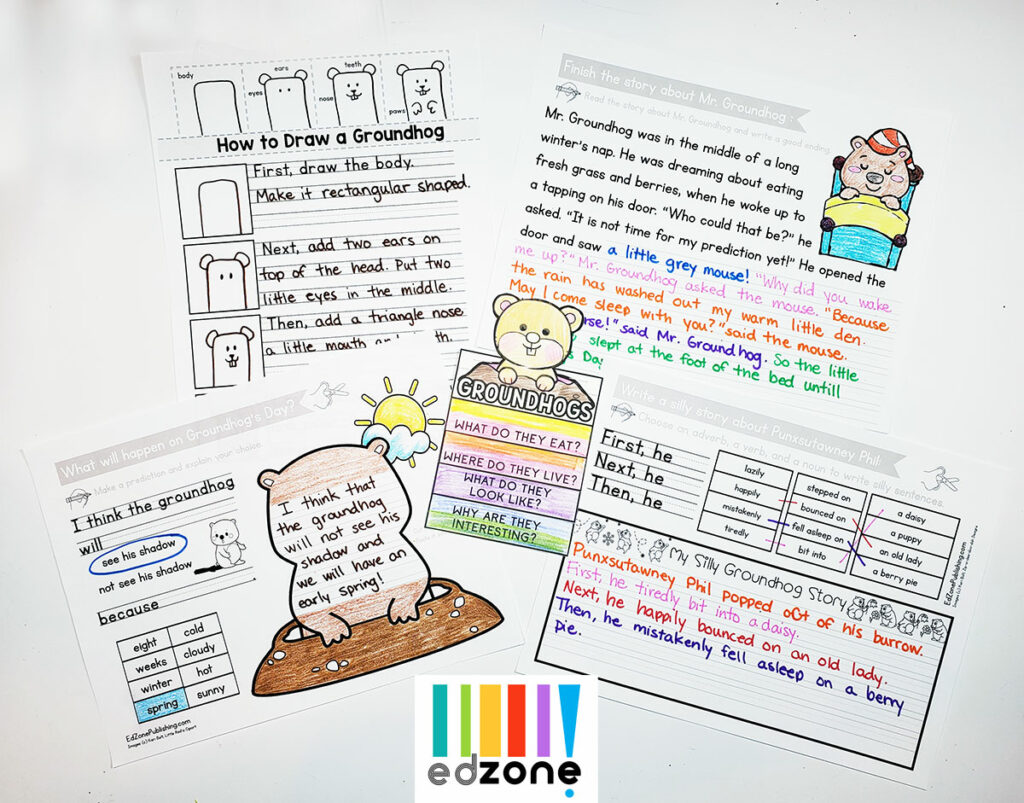 Students will have a blast with these kindergarten writing prompts for Groundhog's Day. There are five different writing prompts each focusing on a different skill. Students will work on predictions, drawing, writing in sequence, finishing a story, creative writing, and non-fiction research. These writing activities are sure to help you hit key standards while providing your kiddos with fun, engaging content.
Valentine's Day Kindergarten Writing Prompts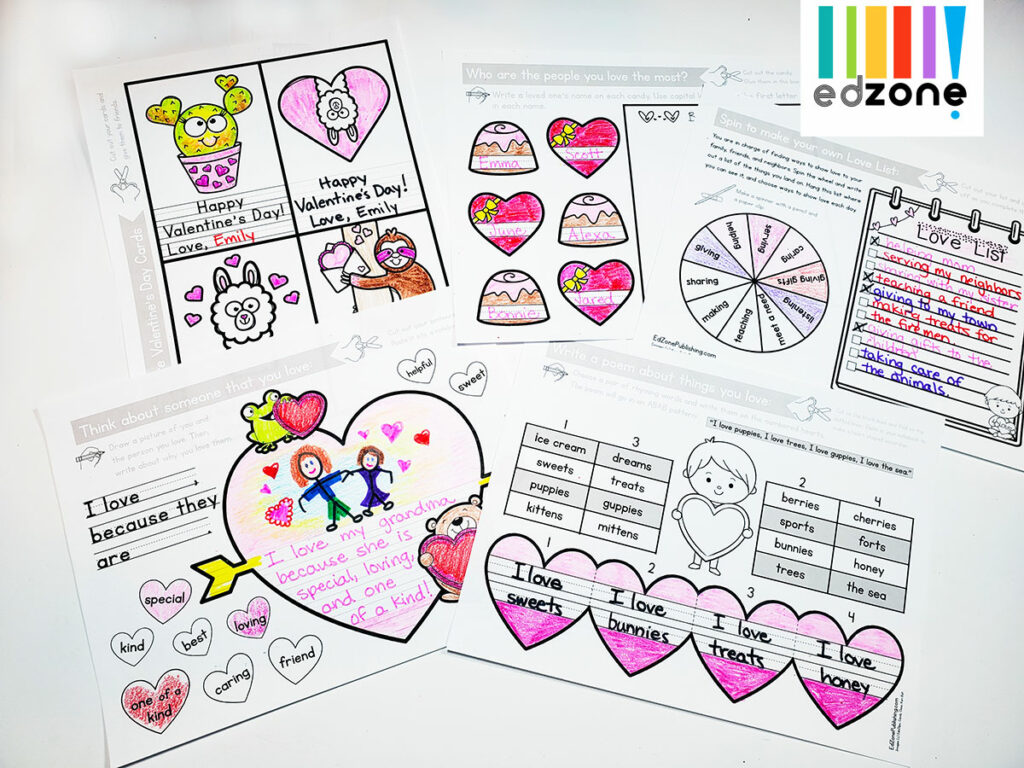 The second week in February is filled with all sorts of Valentine's Day fun! Students will work on capitalization, ABAB poetry, adjectives, Valentine's Day cards, and making a list of different acts of love they can complete throughout the month. Each writing prompt has been designed to add fun and learning to your language arts studies.
Black History & Presidents Day Kindergarten Writing Prompts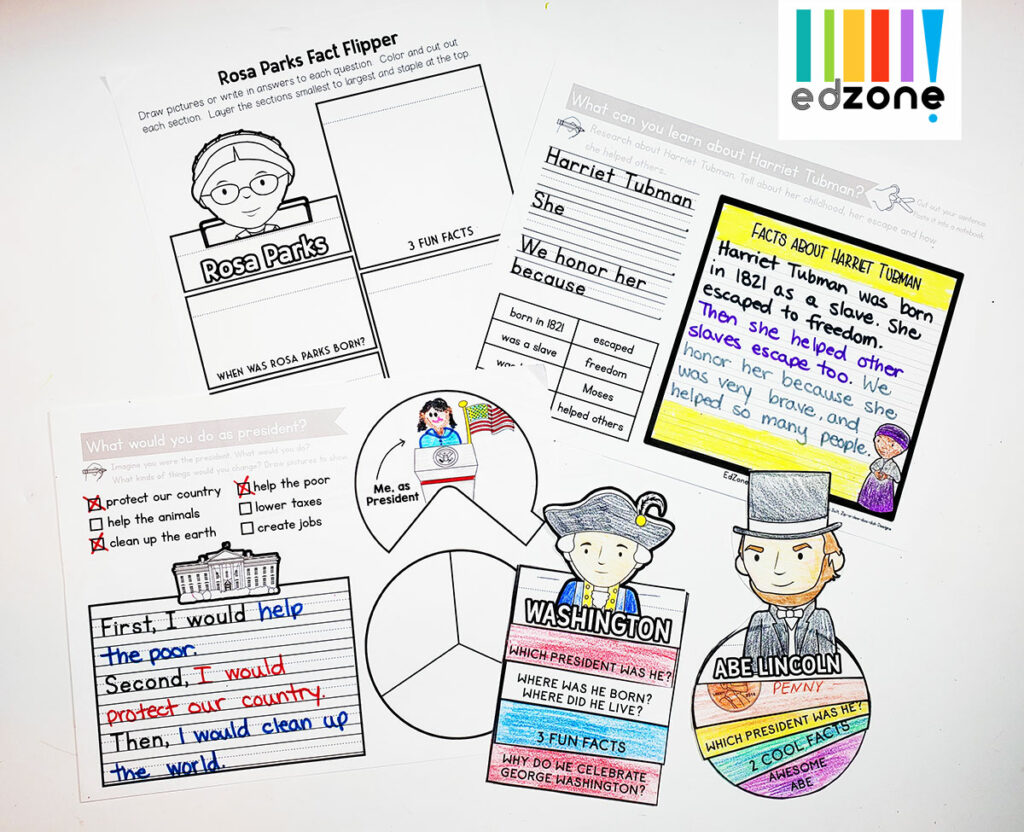 Kindergarten students put their research skills to the test this month with multiple character studies on important figures throughout history. Students find and organize facts about Rosa Parks, Harriet Tubman, George Washington, and Abraham Lincoln. Next, students explore opinion writing as they write about what they would do if they were president.
Dental Care Kindergarten Writing Prompts (Tooth Fairy)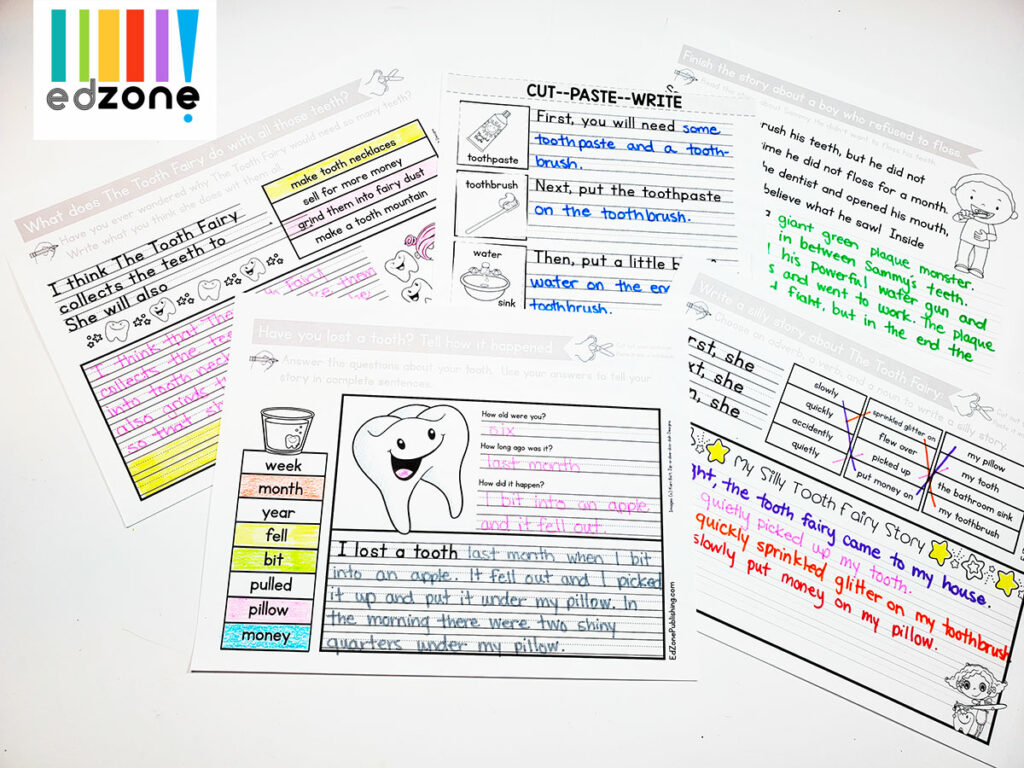 February is dental awareness month, so we've included lots of "toothy" fun for students to write about. Children will retell of a time when they lost a tooth, and write the steps to brush their own teeth well. Finally, students will explore some fun creative writing by responding to questions such as, "What does the tooth fairy do with all those teeth," and finishing a story about a boy who never flossed.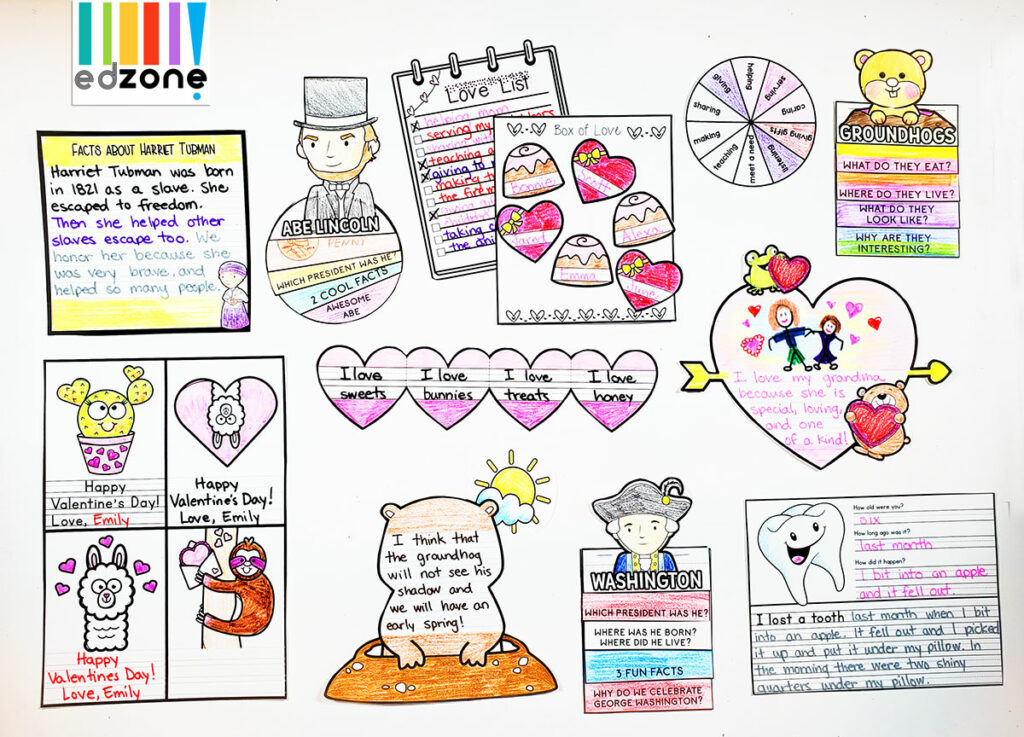 Our February Writing Pack is filled with creative learning opportunities for your kindergarten students. Each pack is designed so students can cut out their writing samples and place them into a keepsake writer's notebook.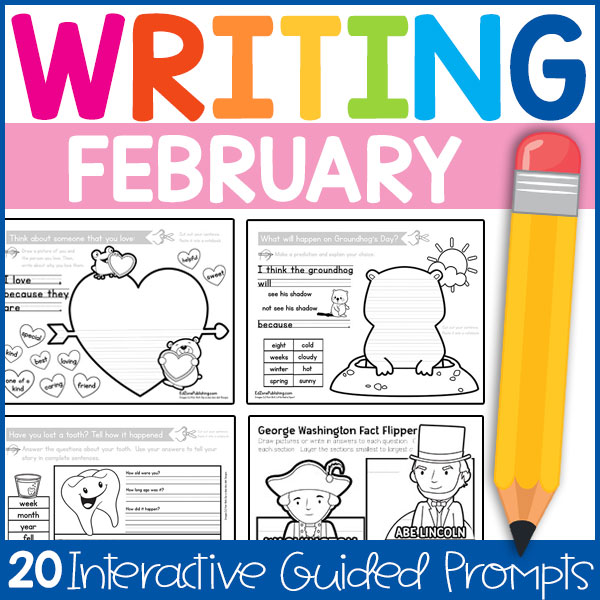 These interactive guided writing prompts are simple and engaging for your beginning writers. With no-prep required these daily writing exercises will give your students thematic writing activities for every day in February.
How to Use:
Each writing prompt is designed to allow students to complete the activity independently. Students are asked a simple question and then given a writing template to follow in order to answer the question. The word bank contains any words the student might need to personalize the response. Students copy and write their answers on the shaped writing templates. Then, students cut out their writing and glue it inside their composition notebook.
What's Included:
This pack includes 20 interactive writing prompts for beginning writers. It is recommended that students keep all of their writing samples in their own notebook. This will serve as a keepsake and a portfolio of work.
February Topics:
Groundhog's Day
Valentine's Day
President's Day (Washington & Lincoln)
Black History (Rosa Parks & Harriet Tubman)
Dental Care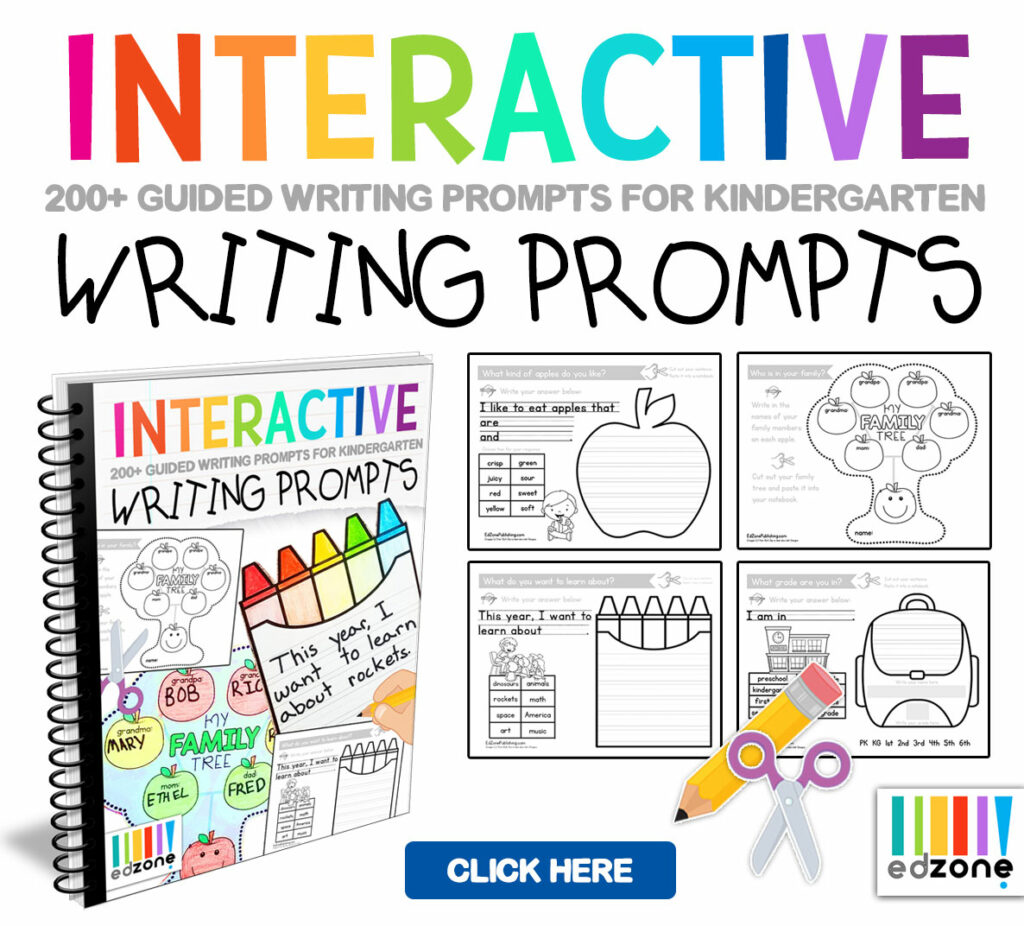 Purchase the entire year of Interactive Writing Prompts Here!