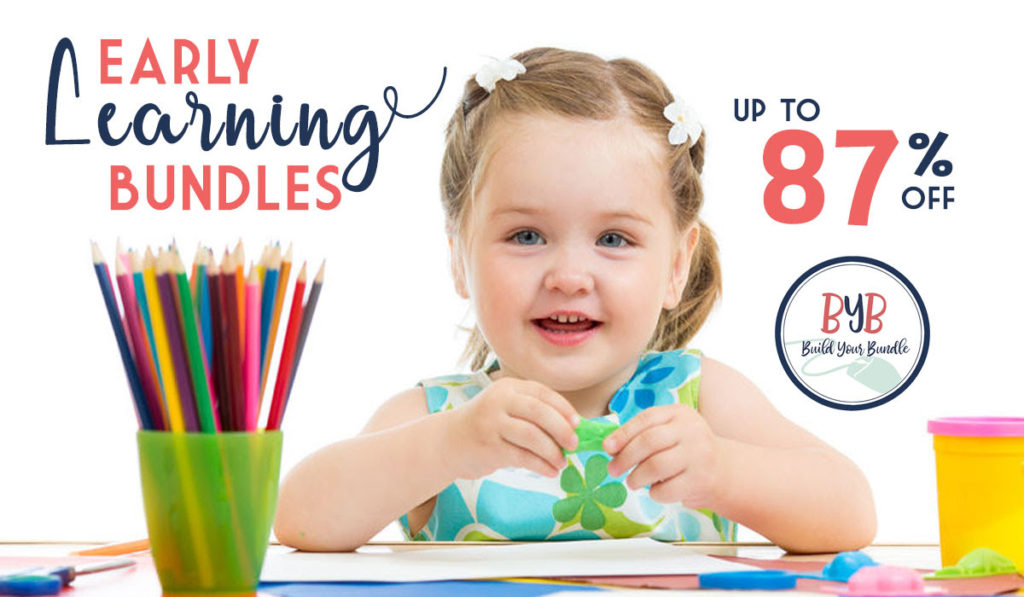 I hope you've had time to shop the Build Your Bundle Sale this week.  I know it can be a bit overwhelming on the first couple of days as you try to understand how the sale works, and how to get the best value for your money.  So, today I wanted to share with you a way that you can score over $650 in Early Learning resources for only $58.  The Early Learning Bundles are a HUGE hit every year and here is why: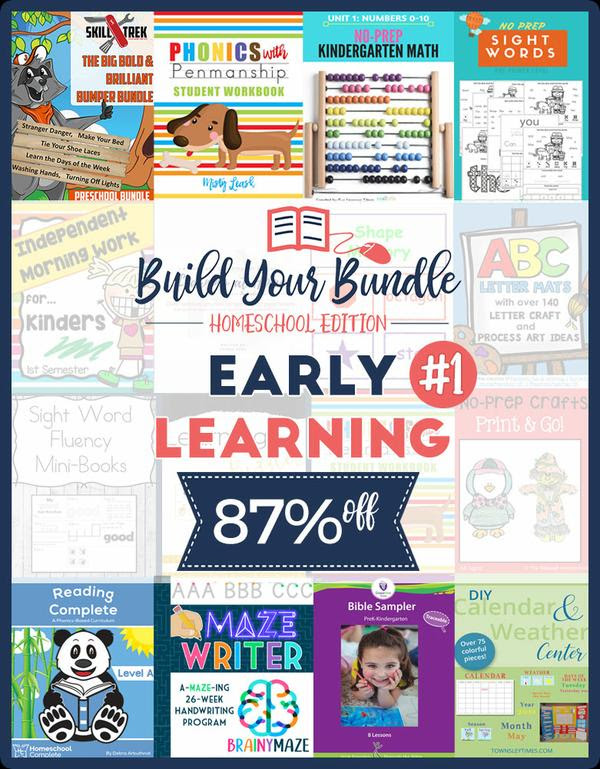 Retail Value: $225.89    SALE $29.00
This Early Learning Bundle is full of preschool and early learning resources you will love using with your little ones. Inside you'll find a fun math unit, sight word practice, a full reading curriculum, Bible curriculum, a craft pack, a phonics, and penmanship curriculum, a life skills pack from Skill Trek and much more. This bundle includes our popular Maze Writer handwriting Program as well!

No Prep Kindergarten Math Unit 1  $8.00
No Prep Sight Word Worksheets: Pre-Primer     Edition $15.00
Learning Puzzle Pack $18.00
DIY Calendar and Weather Center $6.99
Learning at HOme $50.00
Reading Complete: A Phonics-Based Curriculum Level A $39.48
PreK-K Bible Sampler-Traceable $12.50
No-Prep Craft Pack $10.00
Morning Work for Kindergarten-1st Semester $7.99
Sight Word Mini Fluency Books $4.99
Phonics With Penmanship- Year One $29.99
Skill Trek Express Preschool Mini-Bundle $9.95
ABC Letter Mats with Craft and Process Art Ideas $6.00
Maze Writer Handwriting Program $7.00
                                                                                                                                                               TOTAL VALUE: $225.89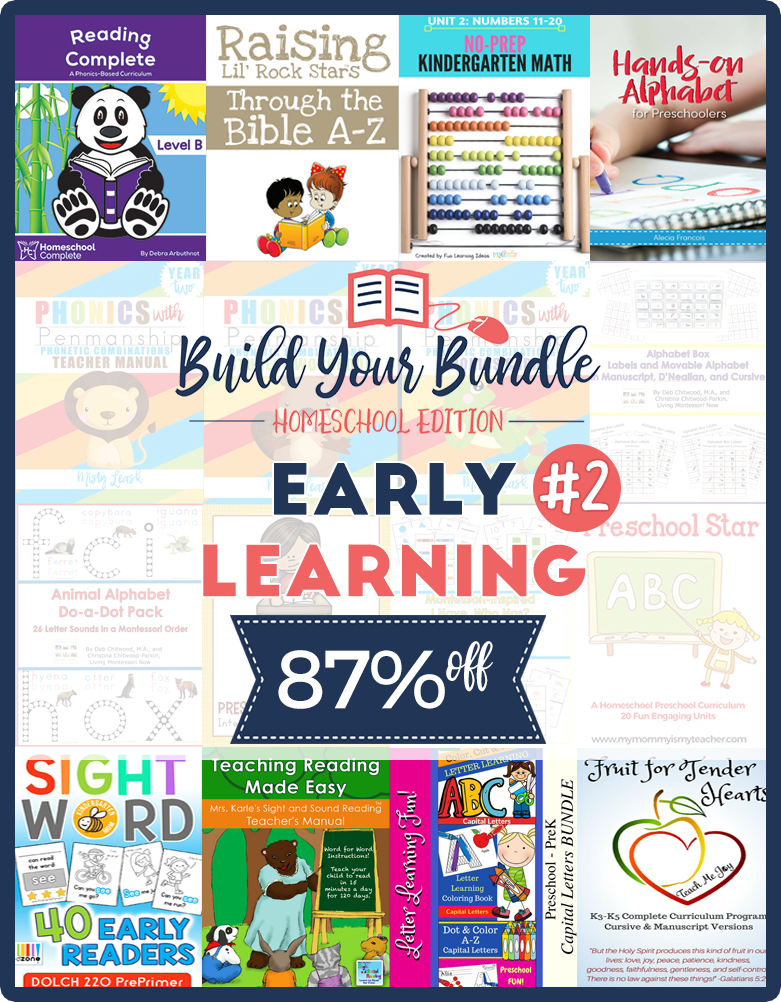 Retail Value: $228.30    SALE $29.00
The Early Learning Bundle #2 contains so many resources for your little ones.  You'll find our own Sight Word Early Readers which retails for $15 alone! Also included is a collection of Preschool Basic Skills Bundle, Phonics & Penmanship Curriculum, 2 Complete Reading Curricula, a full homeschool program targeting students in K3-K5, Raising Lil' Rock Stars Through the Bible A to Z.   

Hands-On Alphabet for Preschoolers $15.00
No Prep Kindergarten Math Unit 2 $8.00
Raising Lil' Rock Starts Through the Bible A to Z $12.00
Montessori-Inspired I Have, Who Has? Preschool Game Pack $4.95
Animal Alphabet Do-a-Dot Pack $2.95
Alphabet Box Labels and Moveable Alphabet in Manuscript, D'Nealian $2.95
Reading Complete: A Phonics-Based Curriculum Level B $35.99
Preschool Star-Preschool Curriculum $35.00
Fruit for Tender Hearts-Cursive Version $18.50
Letter Learning FUN for Preschool-PreK (Capital Letters BUNDLE) $4.99
Teaching Reading Made Easy-Teacher's Manual $20.00
Phonics with Penmanship- Year Two $29.99
ABC PlayDough Mats $9.99
Interactive Flip Books Bundle (4-pack) $12.99
40 Sight Word Early Readers $15.00
                                                                                                                                                                                   TOTAL VALUE $228.30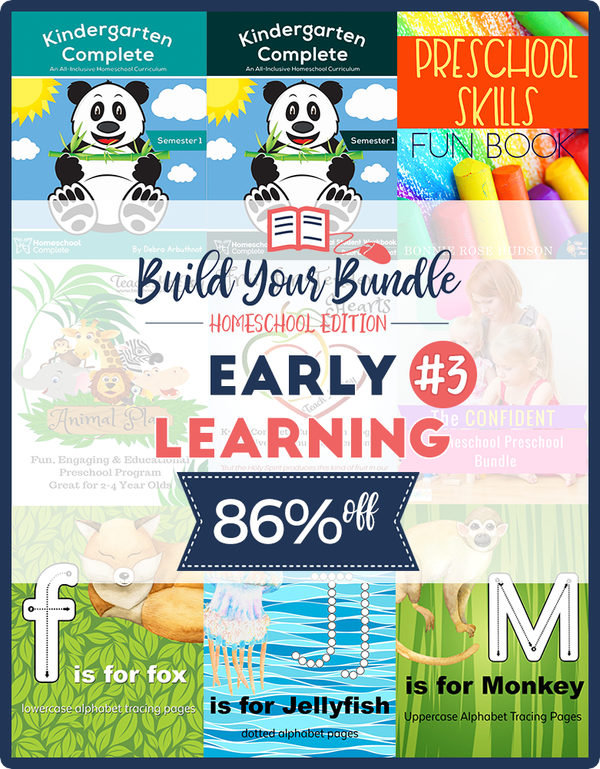 Retail Value: $207.65    SALE $29.00
If you have an early learner and you are looking for curriculum, this bundle is for you.  This bundle includes a complete kindergarten  curriculum that retails for $140 just by itself.  There is a Preschool Skills Fun Book, Animal Play program that uses colorful books, songs, and game to introduce the alphabet, colors, number, shapes and more.
Confident Homeschool Preschool Bundle $7.00
J is for Jellyfish Dotted Alphabet Pages $5.99
M is for Monkey Uppercase Alphabet Tracing Pages $5.99
F is for Fox Lowercase Alphabet Tracing Pages $5.99
Preschool Skills Fun Book $4.99
Kindergarten Complete Semester One All-Inclusive $140.69
Animal Play $18.50
Fruit for Tender Hearts-Manuscript Version $18.50
TOTAL VALUE: $207.65